Crossings Camp at Skycroft
Crossings: Crossing over from death to life (previously called reCHARGE) is an annual, week-long summer camp for students who have completed grades 6-12 that is focused on keeping the Gospel front and center.
Our youth ministry goes as a group.
Camp is held at Skycroft Conference Center in Middletown, MD (about an hour from church).
Join us for our 5-night, 6-day summer camp for students who have completed grades 6-12.
Bring your students to Crossings at Skycroft and they will experience Christ-centered worship, solid Gospel teaching, intentional church group times, exciting recreation, adventure, missions opportunities and more! The schedule is intensive, fun and focused on challenging youth pastors and their students to grow in Christ. We offer leadership training for both students and adults that is designed to help the youth group in their vision and ministry. Expect to be challenged, encounter God in a new way, and to leave camp changed!
What Can I Expect at Crossings?
Youth who attend
Crossings
can expect…
to build strong friendships with fellow campers, especially those within our group.
to connect with God in a deeper way through sessions and trainings geared toward students.
to enjoy great meals from the cafeteria (accommodations can be made for special dietary needs, too).
to play unforgettable games – absolutely crazy ones that get youth active and often messy!
to experience powerful worship as they praise God together and are led by a special praise band.
to meet real needs during daily projects at mission sites.
to experience new things – like the high ropes course, long "Damascus Road" water slide, or even fun karaoke nights!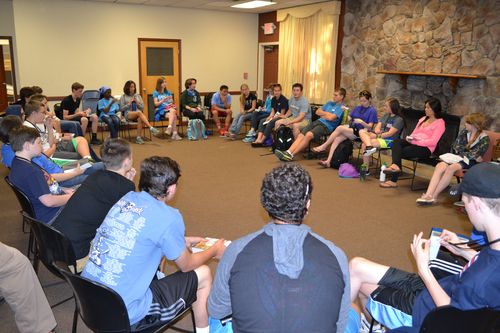 Camp is first for the youth ministry at Redland Baptist Church. It is an event that we hope all of our youth, students who have completed grades 6-12, can attend together.
Second, it is a great opportunity to invite a friend who does not have a church home and give them an opportunity to have a blast with a great group while learning more about God and who he is.
Our 2020 dates are June 28 - July 3
We typically leave early afternoon on Sunday and return before noon on Friday. Look for a more detailed schedule as camp approaches. A sample daily schedule can be found at the Skycroft website.
Other important dates:
Feb. 23Pre-trip meeting is scheduled for Sunday, February 23 at 9:45am in the Youth Barn. This meeting is informational.
Apr. 19Mandatory pre-trip meeting is scheduled for Sunday,April 19 at 9:45am in the Youth Barn. All campers must attend, along with at least one parent/guardian.
The following items are due at the meeting:
Payment (or arrangements)
All forms completed and submitted (see below under "How do I sign up?")
2 copies of health insurance card (both front and back) turned in
How much does Crossings Camp cost?
Camp cost includes 5 days and 6 nights of camp, all meals, transportation, chaperone expenses, activities, and lodging.
The earlier you register, the better the price. Early registration helps us greatly to coordinate chaperones and transportation.
Please note the following price deadlines:
Register by Feb 23: $300
Register after April 19: $325 (space permitting)
We never want finances to prevent youth from attending camp (or other events). Speak with the Minister of Students if you have financial limitations.
Registration for Crossings Camp begins on February 10!
Contact Pastor Kevin Freeman or the Church Office for more information.